Announcements
Having problems receiving emails from the NMFMA?
If emails from us end up in your spam folder, try this: add *@farmersmarketsnm.org and *@memberleap.com to your email system's Contacts list (don't forget to include the * ). Emails from contact lists usually bypass spam filters.
---
Farmers' Market and Vendor Guidelines During COVID-19 Crisis
Read the September 15, 2021, Public Health Order here.

Read the August 17, 2021, Public Health Order here.
Read the May 21, 2021, COVID-Safe Practices for Individuals and Employers here.
---
New Mexico Grown Approved Supplier Program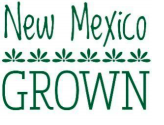 If you are a grower interested in selling your locally grown food to New Mexico schools, senior centers or early childhood sites, consider becoming an Approved Supplier. Deadlines (to be confirmed) for the FY22-23 school year are:
Priority deadline: March 1, 2022. For returning vendors and open to new vendors, Vendors will be approved to sell by June 1, 2022.
Secondary deadline: June 1, 2022. Vendors will be approved by September 1, 2022.
Rolling Approval deadline: Available to prospective vendors on a case-by-case basis.
If you will be selling to the schools during the 2022-2023 school year as a NEW vendor, you must complete an approved food safety training course. See a list of training options here.
After completing an approved food safety training course, you can apply to become an Approved Supplier by using one of these applications:
Visit the NM Grown page for more information and download the Approved Supplier Program Packet for a program overview.
These resources are also available on the PED website.
For more information contact:
Sophia Rose
Farmer Programs Coordinator
(304) 646-8291
sophia@farmersmarketsnm.org
---