Announcements
The New Mexico Farmers' Marketing Association has a job opening for a Communications Administrator
For a complete job description, download the job announcement
here
.
---
Covid-19 Local Food Supply Chain Response Fund Infrastructure Grant Program Application for NM Farmers & Ranchers
The application deadline closed on March 17th. We will contact awardees directly in early April. If you have not heard back by April 12, email Sarah Grant.
The application deadline of March 17, 2021 at 5:00 PM is now past.
---
New Mexico Grown Approved Supplier Program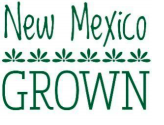 If you are a grower interested in selling your locally grown food to New Mexico schools, senior centers or early childhood sites, consider becoming an Approved Supplier. Deadlines for the FY21-22 school year are:
Priority deadline: March 1, 2021 For returning vendors and open to new vendors. Vendors will be approved to sell by June 1, 2021.
Secondary deadline: June 1, 2021 Vendors will be approved by September 1, 2021.
Rolling Approval deadline: Available to prospective vendors on a case-by-case basis.
If you will be selling to the schools during the 2021-2022 school year as a NEW vendor, you must complete an approved food safety training course. See a list of training options here.
After completing an approved food safety training course, you can apply to become an Approved Supplier by using one of these applications:
Visit the NM Grown page for more information and download the Approved Supplier Program Packet for a program overview.
These resources are also available on the PED website.
For more information contact:
Ashley Taylor
Local Food and Farming Program Coordinator
505-983-4010 ext 1
ashley@farmersmarketsnm.org
---
Farmer Food Safety Trainings
Farmer food safety trainings are now online for ALL growers, including those planning to sell to schools, senior centers, and early childhood sites through the New Mexico Grown Approved Supplier Program.
Click here for our updated listing of upcoming online food safety trainings.
If you are interested in food safety training but are not intending to sell through the Approved Supplier Program, you can attend these trainings without any additional application. Also, open-source viewing of the NMFMA's food safety video modules (no quizzes or course certificate) can be found here.
---
Apply to be a Board Member for the NMFMA
There are three open positions to be on the board of the New Mexico Farmers' Marketing Association (two current board members wish to run to retain their positions, and one position is open). Board members will be elected during the 2021 virtual conference; voting will be open from Wednesday, March 24 through Friday, March 26. To be included in the board election, applications must be completed by Monday, March 8. Read the complete instruction sheet here and, when ready, access the online survey here to complete the application.
---
Farmers' Market and Vendor Guidelines During COVID-19 Crisis
September 3rd's Public Health Order provides for farmers' markets to include a limited amount of non-food vendors (crafts) as long as social distancing and sanitation protocols are followed. Please consult your local city government for assistance determining how many are allowed.
View the most recent New Mexico Department of Health guidelines here.
---
Are You a Grower with Food to Sell?
If you are a grower with surplus food to move due to changing circumstances with your regular buyers at farmers' markets, schools, restaurants, or other venues, please fill out this very short form to let us know what you have to sell and we can assist you.
---
Critical Infrastructure Letter
March 24, 2020 (From Larry Dominguez, NMDA, Industry Relations)
"
In an effort to assist the NM agricultural industry during this pandemic emergency and given the
Public Health Order
issued by the NM Department of Health on March 23, 2020 which closes all businesses except for those deemed essential, Secretary Witte
asked for a template letter be provided to food and agriculture sector businesses deemed "critical infrastructure" and which will continue to operate under the Public Health Order. Companies can edit
this template letter
as appropriate to include letterhead, contact information, and a more specific description of your company and function. We recommend employees be provided with a copy of the letter to carry with them. The intent is to help facilitate a continued uninterrupted food and agriculture supply chain."
---
Public Health Order Released
March 24, 2020
The Public Health Order released on March 24th deems farmers' markets and similar food outlets "Essential Businesses" that can continue selling food to New Mexicans. Read the Public Health Order here to view the complete list.
---
Farm Business Sustainability Amid Coronavirus
March 18, 2020
Here is a best practices document for farms amid novel coronavirus (COVID-19) including farm workers, equipment, facilities, food handling, and more.
---
---