Announcements
Register Now NMFMA 2023 Local Food Connects 25th Annual Conference!
New Mexico Grown Approved Supplier Program
Now Accepting Applications for Meat Vendors
Apply today! Fill out and submit this application: Approved Supplier Program Meat Vendor Application (https://tinyurl.com/55ekntps)
We are very excited to announce the start of two new market opportunities available to New Mexico ranchers and meat processors and distributors: the New Mexico Grown Meat pilot and the Regional Farm to Food Bank pilot.
Any vendor interested in selling meat to institutions or food banks must complete an application to be accepted as a meat vendor in the New Mexico Approved Supplier Program.
We are accepting applications on a rolling basis, but don't wait! The sooner you submit your application, the sooner buyers will be able to contact you.

New Mexico Grown (NM Grown) is a state funded program that serves K-12 students, older adults in senior centers, and early childhood education sites across New Mexico by incentivizing the purchase and distribution of locally grown foods for meal and snack programs. The Regional Farm to Food Bank is a federally funded program designed to serve socially disadvantaged producers and communities in need.

Both programs provide significant economic development opportunities for New Mexico's farmers, ranchers, food producers, food hubs, and distributors by supporting a robust wholesale market serving public institutions and emergency food centers. Both programs will utilize the state-supported Approved Supplier Program to provide food quality assurance and provide a level playing field for producers of all sizes.
The pilot programs will run from July 2022 - June 2023.

Allowable meat products include: beef, bison, lamb/mutton, and pork products.

Eligible vendors include producers, processors, or distributors who are able to meet food safety and product specification requirements and who are interested in selling allowable New Mexico-grown meat products to early childhood education, public school, senior center, and emergency food sites.

Further details are provided in the application.

Questions? Please reach out:
Bryan Crawford-Garrett
Food Systems Initiatives Director
New Mexico Farmers' Marketing Association
bryan@farmersmarketsnm.org
202-557-1451 (cell)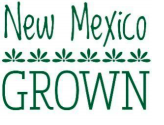 New Mexico Grown Approved Supplier Program – for produce, nuts, grains, legumes, and value-added/ processed goods
If you are a New Mexico grower interested in selling your locally grown food products to New Mexico schools, senior centers, early childhood sites, or emergency food sites, consider becoming an Approved Supplier.
Deadlines for the fiscal year 22-23 (July 1, 2022 - June 30, 2023) are:
March 1, 2022: Vendors who submit their application by March 1, 2022, will be approved for sales to schools and other institutions by May 1, 2022.

Rolling approval is available on a case-by-case basis. Approval may take up to 45 days.
Returning vendors — those who have sold to institutions through the NM Grown Program in the past two years — are required to submit a Returning Vendor Survey for fiscal year 22-23 (July 1, 2022 - June 30, 2023). Read more about the new process here.
Food hubs and new vendors are required to submit an Approved Supplier Program Application for fiscal year 22-23 (July 1, 2022 - June 30, 2023). These applications (Food Hub Application, New Vendor Application) include the following requirements:
See the NM Grown Approved Supplier List for School Year 22-23 here.
Please make sure to use the live version of the list and view it in Google Sheets, rather than downloading it onto your computer, in order to have the most updated information available.

You can

bookmark the link or create a desktop shortcut

to have easy access.
Visit the NM Grown page for more information.
Download and print the Early Winter 2023 Food Safety Training Schedule here.
Additional resources are also available on the PED website.
For more information contact Bryan Crawford-Garrett, Food Systems Initiatives Director, at bryan@farmersmarketsnm.org or 202-557-1451 (cell).




---
Farmers' Market and Vendor Guidelines During COVID-19 Crisis
Read the most recent Public Health Order from Feb. 17, 2022, here.
Read the May 21, 2021, COVID-Safe Practices for Individuals and Employers here.


---
Having problems receiving emails from the NMFMA?
If emails from us end up in your spam folder, try this:
Add *@farmersmarketsnm.org and *@memberleap.com to your email system's Contacts list (don't forget to include the * ). Emails from contact lists usually bypass spam filters.


---